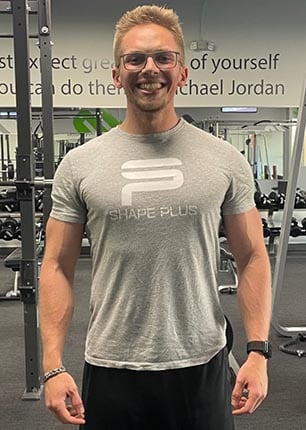 NASM Certified Personal Trainer
Group Training Specialist
Weight Loss Specialist
3 yrs Training Experience
Omid is a NASM Certified Personal Trainer.  When you show up to one of his workouts, you will feel like you're meeting up with one of your compadres who has your Best interest at heart. Don't be fooled by his charming and kind demeanor, Omid expects you to leave ALL excuses at the front door. After losing over 65 pounds and transforming his own life as a client at Shape Plus years ago, he is a stellar example of what is possible when you stay consistent and NEVER give up.
Omid's game plan to tackle and work through roadblocks (while correcting bad habits), will help each client find the happy, healthy lifestyle that they deserve.
His philosophy inside the gym and in life is to always put forth your best effort, and "Leave it alllll out on the Field!!!". Omid's focus on personal growth & progress helps to motivate all of his clients…just don't forget to send him your Cardio Pics!!! If you are fortunate enough to have this awesome guy as your trainer, you can guarantee that he will always be in your corner to support you in every way possible. Omid draws inspiration from bodybuilder Chris Bumstead and The David Goggins (STAY HARD!!!). When he is not throwing weights around or researching nutrition, Omid enjoys hiking in the great Colorado outdoors (ask him about the Manitou Incline), and squeezing in a round of golf.

Highest Certified Trainers
At ShapePlus, our trainers work with individuals of different fitness levels, including injuries and limitations. In addition, our trainers maintain a current CPR/AED Certification from the American AED CPR Association and a NASM Personal Trainer certification or ACE Personal Trainer certification.
View Our Before and After Results!
When Jess asked me to put pen to paper, to share my story, I was a little hesitant not knowing if it would hold much interest to anyone.  But, here it...
read more
Fitness Tips, Motivation & Inspiration
When it comes to achieving your wellness goals, personalized attention can make all the difference. Here's how one-on-one personal training can help you...
read more
In recent years, new workout formats and training paradigms have emerged to better serve the diverse needs and preferences of fitness enthusiasts...
read more
When most people think about getting in shape, they imagine a lot of hard work and a regular routine. In reality, most improvements occur outside of the...
read more