Weight Loss Program For Women
"I am forever grateful to Jess and the Shape Plus family for showing me something amazing" – Alyse H.
The quickest, most effective, and maintainable solution to a weight loss program for women is a fitness routine that fits their life combined with a healthy and satisfying nutritional plan that supports their weight loss. You need a weight loss program that incorporates fitness and nutrition into your life instead of trying to fit your life into an exercise plan. Your fitness plan starts from the time you wake up until the time you go to bed and it has many factors that need to be considered before you can create one that fits your life.
Women's Fitness Plan Variables to Take into Account
When is your energy best for working out in the day?
Do you have a significant other? Are they supporting your efforts?
Do you have children?
Work (From what time to what time, how long, weekends, etc.)?
Drive Time – How much time do you spend on the road to and from work and other activities?
What time do you wake up?
What time do you go to bed?
When creating your fitness plan, your trainer takes these variables into account. We plan your workouts and healthy meals around them and/or look at how we can tweak a few of them so that this doesn't become a stressor and you can easily stick to the plan.
Sample Fitness and Weight Loss Program for Women
Circuit training – 2-3 times per week. Duration 1 hour each.
Cardiovascular training – 2-3 times per week of 20-45 minutes each in duration.
Nutritional program – Simple and satisfying nutritional program that fits your life.
This sample plan is to give you an idea of what may be necessary to reach your weight loss goals.  Type of training, intensity, frequency, and duration will vary in your MMAP® "Massive Multiple Action Plan" according to your specific goals and chosen Amazing Date.
Components of our Fitness and Weight Loss Program for Women
Lifting Weights or Resistance Training can Lead to Women's Weight Loss
More and more women are learning that weight training is important to weight loss and is the key to toning and sculpting their bodies. Hitting the weights in addition to cardio exercise is very beneficial in the short and long term for weight loss and, more specifically, fat loss for women.
In the short term lifting weights burns fat and calories, plus increases your body's demands on calories for repair that are taken in for up to 36 hours after weight training.
In the long term, muscle burns more calories than fat. It is possible that for each pound of muscle you gain, your body needs an extra 6-8 calories per hour to sustain it. That may not sound like much, but if you do the math, then that equates to enough calories for up to 15 lbs of weight loss over the course of a year. That's just one pound of gained lean muscle tissue. If you gain at least 2-3 lbs of lean muscle. That could lead to 30-45 lbs of weight loss over the course of a year. Also, you will be toning and sculpting your body to look nice as you lose weight. This is just one of the reasons that it is easier for people in shape to stay in shape.
Cardio for Women's Weight Loss
Doing at least three cardio sessions per week at 20 minutes each time may be all you need to get nice and lean when done in conjunction with weight training. Cardio training can also improve your circuit training due to the increased ability to recover more quickly, increasing calorie burn. Cardio itself can burn a lot of calories. Although not always necessary extended cardio can burn up to 500-800 calories each time. When cardio is done at the right time, you can go right into fat-burning within two minutes of beginning. In addition to burning calories, cardiovascular training for weight loss also conditions women's hearts and lungs and contributes to overall health and well-being.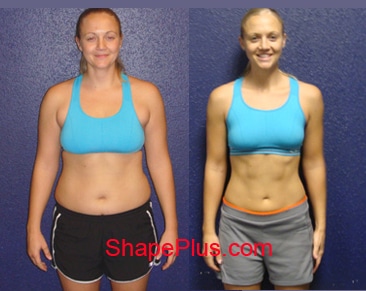 Laura C.*
"I used to dread going to the gym and now I actually look forward to it"
Weight Loss Commonly asked questions
Is it better to work out in the morning?
This question is often asked. It is true if you are at your best in the morning, you do it on an empty stomach, and you are doing cardio. It is just as good at any time of the day if you do resistance and/or circuit training right before doing cardio. The reason is that you will burn through the excess carbohydrates in your system while resistance training and then quickly go into fat-burning by doing cardio immediately afterward.
So if you are a morning person and have time for cardio, then great. If you aren't at your best in the morning or don't have time for it, then no worries. It can be just as great later in the day.  So the best time to work out is when you feel your best and have time for it. Simple, but it needs to be said.
If I lose weight too fast will I gain it right back?
The answer is no. If you don't lose weight fast enough, you most likely won't stick to that program. Getting fast results is much more advantageous than losing it slowly because you see that it is working, and you gain momentum. When you lose weight fast through a fun and exciting lifestyle change that incorporates the right kind of weight training, cardio, and a proper and satisfying nutritional plan, then you are creating habits that will help you maintain your amazing results for life!
If you're ready to check everything out and make sure you love it here then contact us today!
Ready to Make a Change?
Contact Shape Plus and get started with your fitness goals.
Fitness Tips, Motivation & Inspiration
When it comes to achieving your wellness goals, personalized attention can make all the difference. Here's how one-on-one personal training can help you...
read more