Meet our DTC Personal Trainers
"Great gym! I love it here. All of the trainers are welcoming and helpful." – Chloe M.
Get Started with Shape Plus Now!
Our trainers at our DTC location have the highest in certifications and up to 14 years of training experience. "We are ready to do something amazing with you!"
Ryan – Manager
Ryan is a NASM certified trainer and has been a trainer at Shape Plus the from it's earliest stages. He has been certifiably the "Nice-Mean" trainer for 14 years strong and he has been a gym rat for over 18 years.
Everyone always comments on how quiet & nice he is until they actually have to do his workouts.
Don't think you will ever get away with doing only 3 sets of ANY exercise. Ryan reminds everyone that "Arnold Says" you must do a minimum of four sets to adequately fatigue a muscle. That's because Ryan has read Arnold's Encyclopedia of Modern Bodybuilding in its entirety approximately seven times (by now, possibly eight).
One primary reason why Ryan is often asked for his professional advice is because he is extremely knowledgeable on nearly all things work out related, and I wholeheartedly respect and value his opinion. Whether it's questions regarding your post-workout supplement stack, superior grip for bicep curls, or the best HIIT workout for optimal fat burning, you should definitely ask Ryan.
His exceptional knowledge of bodybuilding, body shaping, toning, sculpting, nutrition and sports performance has delivered amazing results for his clients.
The main objective Ryan addresses is to "stay on track and overcoming obstacles". He keeps every one of his clients on track with our food journal, and he goes as far as having his clients send text pictures of their cardio if it is part of their MMAP®. If accountability is what you need then you have found the right trainer.
He draws inspiration from the likes of Kai Greene, Eric Thomas and the Rock.
Let's also say he has a great appreciation for Chic-fil-a sandwiches.
NASM Certified Personal Trainer
NASM Performance Enhancement Specialist
NASM Fitness Nutrition Specialist (FNS)
NASM Weight Loss Specialist (WLS)
NASM Youth Exercise Specialist
NASM Corrective Exercise Specialist
12 yrs Training Experience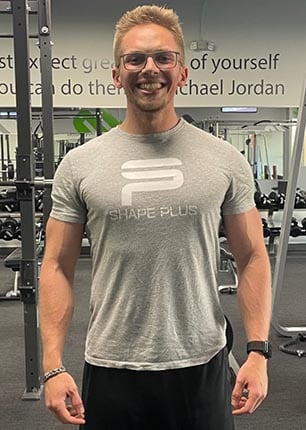 Omid
Omid is a NASM Certified Personal Trainer.  When you show up to one of his workouts, you will feel like you're meeting up with one of your compadres who has your Best interest at heart. Don't be fooled by his charming and kind demeanor, Omid expects you to leave ALL excuses at the front door. After losing over 65 pounds and transforming his own life as a client at Shape Plus years ago, he is a stellar example of what is possible when you stay consistent and NEVER give up.
Omid's game plan to tackle and work through roadblocks (while correcting bad habits), will help each client find the happy, healthy lifestyle that they deserve.
His philosophy inside the gym and in life is to always put forth your best effort, and
"Leave it alllll out on the Field!!!". Omid's focus on personal growth & progress helps to motivate all of his clients…just don't forget to send him your Cardio Pics!!! If you are fortunate enough to have this awesome guy as your trainer, you can guarantee that he will always be in your corner to support you in every way possible. Omid draws inspiration from bodybuilder Chris Bumstead and The David Goggins (STAY HARD!!!). When he is not throwing weights around or researching nutrition, Omid enjoys hiking in the great Colorado outdoors (ask him about the Manitou Incline), and squeezing in a round of golf.
NASM Certified Personal Trainer
Group Training Specialist
Weight Loss Specialist
3 yrs Training Experience
Alex
Alex is a NASM certified trainer and hails from Florida. She attended the University of North Carolina at Chapel Hill studying Exercise & Sports Science before deciding that Colorado was the place for her.
Her approach to helping people achieve their fitness dreams is to help them discover their own personally- tailored passion for exercise. She is a firm believer in encouraging people to push their physical & mental limits and yet to ENJOY the process of challenging themselves.
Alex was an elite-level gymnast, and in 2013, she competed in the U.S. National Championships. So she knows what it takes to pursue and execute high level goals. For those that desire she can incorporate the best strength and flexibility of gymnastics into her workouts (look out, she's a BOSS at handstand push-ups!!).
From having untold numerous coaching  experiences in her own past she understands the difference between being tortured and coddled and strikes the right balance as to support, respect and still push people to their potential.  She has made it her mission to find the types of exercise that give a client confidence and feel like a rock star!
Her hobbies include trying a new hike every weekend with her dog Scooby and trying out new ab workouts on her husband!
Alex is real, personable, down to earth and fun. She will definitely make your workout "the best hour of your day"!
NASM Certified Personal Trainer
Bachelor's Degree of Exercise and Sports Science
U.S. National Championship's Gymnast
James
James has been a trainer at Shape Plus and ever-so-politely persuading our clients to "Stick to our Plan"! for 6 years.
I don't know if it's his Army experience and being one of their trainers or the fact that he teaches winter sports to kids, but his unwavering and relentless approach WORKS. Don't even try to chat up and distract his clients during their workout–he takes the best hour of their day VERY seriously, and that's why his clients absolutely dig him.
Weight loss, strength gains, and conditioning are serious business, and that's James business. More than a few people have lost over 100 lbs. when training with James. His approach to helping people achieve their fitness dreams is "straight at you". He won't sugar coat it. We promise.
His Personal interests include anything related, but not limited to, working out, bikes, climbing/riding/skiing, (or anything to do with mountains), and most importantly, peanut butter. Crunchy or Smooth??? You will have to ask him yourself!
He loves to expand his workouts outside the weight room and can be found in the rock climbing gym at least once a week. He loves his toys including his Jeep Wrangler and his Ducati motorcycle. His newest hobby is downhill mountain biking so I'm sure he will have some new bumps and bruises soon.
James believes plateaus in strength gains or weight loss are created, and that they don't "just happen". James is quick to make the necessary small tweaks or even major modifications to a client's program when he sees that they are struggling with their motivation, training or nutrition.
James is a very outgoing person and loves to meet new people so feel free to drop in sometime. I'm willing to bet he is one of the first people to say HI.
ACE Certified Personal Trainer
Army Master Fitness Trainer
CPR, First Aid and AED Certified
7 yrs Training Experience