Our Denver personal trainers have the highest in certifications, and have up to 14 years of training experience at Shape Plus in Denver.
We are masters, innovators, and trailblazers setting the standard for personal training and amazing results so you can count on getting the best personal trainer Denver has to offer. Most trainers at Shape Plus are now partners!
Our job and our passion is helping people achieve their goals and doing something amazing with every client we train.
We want to do something amazing with you!

Jess: Personal Trainer and Owner/Founder of Shape Plus
Jess started Shape Plus Personal Training business in 2003, and his gym has been at its Yuma Court location in Denver for the past 10 years.
The whole philosophy behind his vision for Shape Plus has been simple: Focus on HELPING people. No matter what the goal of the client is, you can pretty much guarantee Jess will get them there.
He still answers most all calls to Shape Plus and meets personally with almost every new client to make sure they get the right trainer for them. Jess has been fanatically fit for nearly thirty years, and has never allowed a Krispy Krème Doughnut anywhere near his body.
His undying passion & focus ALWAYS finishes first. In regards to working out, if you feel most alive when you feel like you're about to die, then Jess should definitely be your trainer. His clients always dig his workouts, and you can even catch them grinning when he does his "My-Client's-In-Pain" dance.
I always say that Jess could find a way to make the DMV fun, and his workouts are no different. Those who train with him absolutely LOVE every torture-fest, and they always come back for more. Just bring your "A" game, because without a doubt, he will futilely try to kill you and you will become stronger than you ever imagined. I am not joking.
He is always sure that there is still 45 minutes left in your workout session.  You can often hear him saying "show me your pain face".  One of his main objectives for every client is to be able to do a pull up on their own. He is responsible for 20+ first pull ups, literally thousands of pounds of weight loss, amazing transformation after transformation, and gotten to share so many amazing "first times".  He considers himself honored to be a part of so many peoples lives.
Jess believes that "Everyone has amazing strength and abilities inside of themselves, and it is our job to bring out those strengths and abilities, but in order to reach our full potential oftentimes we must get out of our own way."  "The only thing that keeps us from having the fitness, health or body we want are the excuses we tell ourselves about why we can't have it."
Jess is married to Shawna, also a trainer at Shape Plus. They have two young children so he understands the struggle to stay fit, eat right, balance a heavy workload and still maintain quality family time.
Shawna: Personal Trainer/Partner
Shawna has been a trainer at Shape Plus for 9 years, and helping her clients to lead a HEALTHY lifestyle is a great passion of hers. Shawna firmly believes that if you focus on strength and eating wholesome foods that make you feel great, aesthetics will follow.
Shawna loves Burpees…her slightly masochistic but intriguing variations of this exercise will make you question your sanity for sticking around until you catch a glimpse of yourself in the mirror and know that it's all worth it.
All jokes aside, she says that there is nothing more rewarding than helping people overcome obstacles & make themselves stronger (inside and out).
She lives what she teaches and successfully navigates the challenges of having two small children and staying extremely fit.  She has been seen doing up to 16 legitimate pull ups straight. She's always changing up her own workouts and it keeps her inspired to keep her clients guessing as to what she's going to challenge them with next time. Her clients never, ever look bored.
With a recent ACL tear, surgical reconstruction and rehabilitation she is now stronger than before in less than 6 months.  She knows how to work through the setbacks and set the mind frame of how to come back strong even when it's tough.
Shawna has the ability to put fitness new comers at ease, and make them feel comfortable and confident in no time at all. With her strength training and conditioning experience she has also trained the best to be EVEN better such as the Jiu Jitsu IBJJF NOGI worlds double gold champion 2016 Nicole Evangelista!
She knows when to push and when to back off and in fact coined the phrase "you've go two more"!
With so much in her arsenal she is huge asset to Shape Plus.
Married to Jess with their two young children, she also understands the necessary balance of staying fit, working hard, and creating valuable family time. She often helps others to find that balance also.
Ryan: Personal Trainer/Partner
Ryan has been a trainer at Shape Plus the longest and has been certifiably the "Nice-Mean" trainer for 12 years strong and he has been a gym rat for over 14 years.
Everyone always comments on how quiet & nice he is until they actually have to do his workouts.
Don't think you will ever get away with doing only 3 sets of ANY exercise. Ryan reminds everyone that "Arnold Says" you must do a minimum of four sets to adequately fatigue a muscle. That's because Ryan has read Arnold's Encyclopedia of Modern Bodybuilding in its entirety approximately seven times (by now, possibly eight).
One primary reason why Ryan is often asked for his professional advice is because he is extremely knowledgeable on nearly all things work out related, and I wholeheartedly respect and value his opinion. Whether it's questions regarding your post-workout supplement stack, superior grip for bicep curls, or the best HIIT workout for optimal fat burning, you should definitely ask Ryan.
His exceptional knowledge of bodybuilding, body shaping, toning, sculpting, nutrition and sports performance has delivered amazing results for his clients.
The main objective Ryan addresses is to "stay on track and overcoming obstacles". He keeps every one of his clients on track with our food journal, and he goes as far as having his clients send text pictures of their cardio if it is part of their MMAP®. If accountability is what you need then you have found the right trainer.
He draws inspiration from the likes of Kai Greene, Eric Thomas and the Rock.
Let's also say he has a great appreciation for Chic-fil-a sandwiches.
Greg: Personal Trainer/Partner and our General Manager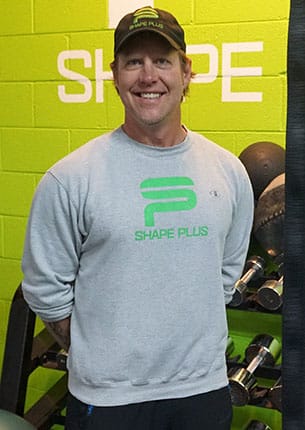 Greg has been a trainer at Shape Plus for 9 years and he has a number of clients who have been working out with him for exactly that long.
His approach to ensuring his clients training and programs are always on point includes making sure they are enjoying their workouts. This comes from his own enthusiasm and pure love for fitness which is addictive.
Abs and core work are always first with him. His philosophy on that is to get them out of the way so that you do not have to do them at the end of your workout (or end up skipping them all together!).
If you work out with Greg on a Friday, chances are you'll be doing some Clean & Press (Heck yeah!). That surely is one killer way to start your weekend!
You can expect a wide variety of exercises and workouts when training with him. He likes to mix it up utilizing everything from free weights to medicine balls, rings, exercise bands, sleds, kettle bells, Bosu balls and so much more are in his toolbox. You will never get bored with your workouts!
"I feel that helping people get excited about exercise and improving the way they look and feel is the best approach to getting them "addicted" to daily exercise and making it a part of their regular routine."
"When my clients return to the gym and tell me that they missed me, I know I have opened them up to a healthier lifestyle that they can't live without. When you become aware of your body through exercise and feel muscles you didn't know you had exercise becomes even more rewarding with each improvement of strength and looks."
James: Personal Trainer/Partner
James has been a trainer at Shape Plus and ever-so-politely persuading our clients to "Stick to our Plan" for 5 years.
I don't know if it's his Army experience or the fact that he teaches winter sports to kids, but his unwavering and relentless approach WORKS. Don't even try to chat up and distract his clients during their workout–he takes the best hour of their day VERY seriously, and that's why his clients absolutely dig him.
Weight loss, strength gains, and conditioning are serious business, and that's James business.  More than a few people have lost over 100 lbs. when training with James. His approach to helping people achieve their fitness dreams is "straight at you". He won't sugar coat it. We promise.
His Personal interests include anything related, but not limited to, working out, bikes, climbing/riding/skiing, (or anything to do with mountains), and most importantly, peanut butter. Crunchy or Smooth??? You will have to ask him yourself!
He loves to expand his workouts outside the weight room and can be found in the rock climbing gym at least once a week. He loves his toys including his Jeep Wrangler and his Ducati motorcycle. His newest hobby is downhill mountain biking so I'm sure he will have some new bumps and bruises soon.
James believes plateaus in strength gains or weight loss are created, and that they don't "just happen". So he is quick to make the necessary small tweaks or even major modifications to a client's program when he sees that they are struggling with their motivation, training or nutrition.
James is a very outgoing person and loves to meet new people so feel free to drop in sometime. I'm willing to bet he is one of the first people to say HI.
Jenna: Personal Trainer/Soon to be Partner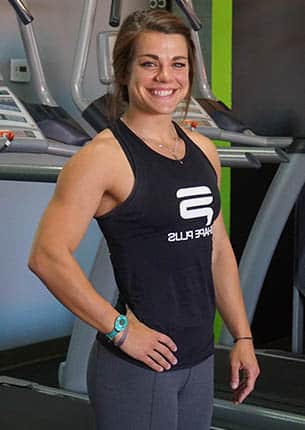 We are beyond stoked to introduce Jenna as our newest member of the Shape Plus Army.
Jenna was born and raised in Ohio, then later attended Miami University where she earned a Bachelor of Science in Kinesiology & Health in 2015.  She has always been extremely passionate about sports, and grew up playing soccer, basketball and softball.  In 2014, Jenna completed her first & only half-marathon (that makes her HALF Crazy!).  She also competed in her first NPC Figure Show in September of 2016.
Jenna's hobbies include any and all sports at the park…especially some volleyball!  She absolutely LOVES Leg Day, and Jenna says that Deadlifts are her Jam! Jenna's fitness level & physique are the result of perseverance and consistency, which she believes are key to achieving any goal. Just as you will always see her smiling, Jenna likes to ensure that her clients also smile and laugh while they are working hard during their training sessions.  Jenna believes that Strong is the new Skinny, and she is undeniably a force to be reckoned with in & outside of the gym.
PERSONAL TRAINER RESEARCH
Contact Jess – We want to do something amazing with you!